When and Where to Invest in Bahria Town Karachi
by UPN
January 5, 2020
0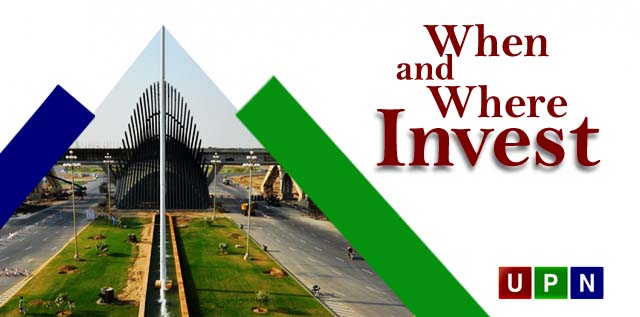 Invest in Bahria Town Karachi
Buying property in Bahria Town Karachi is considered the right option to earn more with safe investment. There are numerous properties available for sale in Bahria Town that a buyer can choose to invest in.  But still, we receive hundreds of queries on regular bases, which are the properties best to invest in Bahria Town Karachi? And which properties are not attractive or will not return a good profit?
Be keeping all these queries and questions in mind, we are here sharing all the details of the best properties available in Bahria Town Karachi.
So, let's discuss all" When and Where to Invest in Bahria Town Karachi"
Ideal Properties for Investment in Bahria Town Karachi
Before investing in any residential plots, first check its precincts, location, as well as the nearby facilities and features.
Further, do check the exact location of the plot, like Main Boulevard, Park Facing, Corner, Semi Corner, West Open, etc.  Plots that are park facing, corner are semi corner is good for investment.
Moreover, you can buy a plot that is located close to the mosque, or to Main Boulevard or lies in the proximity of the Main Entrance.
All these above-mentioned qualities of plots make them best for investment and that assure high investment potential in them.
Properties in Minus in the Same Precinct
Most of the time, it happens that a precinct ideal for investment is also featuring some plots at minus prices. Actually these can be the plots lies in the proximity of Graveyard, are located so far in the precinct or facing commercials.
Same, the plots in the depth are also not good for investment. At the same time, the plot available to you at the really low-prices will not return you with good profit.
Investment in Villas and Apartments in Bahria Town Karachi
While investing in a villa in Bahria Town, do consider the location of the villa. Do check the population ratio as well as the available facilities.
Same, villas located near the mosque, park facing, or near to commercial will be good to buy as well as good to earn handsome rental income.
In addition, villas located far from the main entrance, facing commercials, or are located in non-populated area will be not so good to invest in Bahria Town Karachi.
In case of apartments for sale in Bahria Town Karachi, Jinnah Facing apartments are always attractive to earn good. But all the Jinnah Facing apartments are 2 Bedroom apartments.
 Moreover, there are many apartments facing boundary as well as Danzoo will cost you less in comparison to Jinnah Facing apartments.
Right Time for Investment in Bahria Town Karachi
Those planning to invest in Bahria Town Karachi, do avail this golden opportunity without thinking for anything else. Yes, this is the right time to make investment in the different properties available for sale in Bahria Town Karachi.
Different attractive properties including plots, shops, commercial plots, villas, and apartments are available for sale. The prices of these properties are affordable. There are different circumstances and reasons that make these properties reasonable to invest. Recently, Bahria Town has announced the possession of ready properties so many of these properties are also available at the cheapest prices.
For further details, contact Universal Property Network