Bahria Heights Karachi – Latest Development, Prices, and More
by UPN
January 2, 2020
0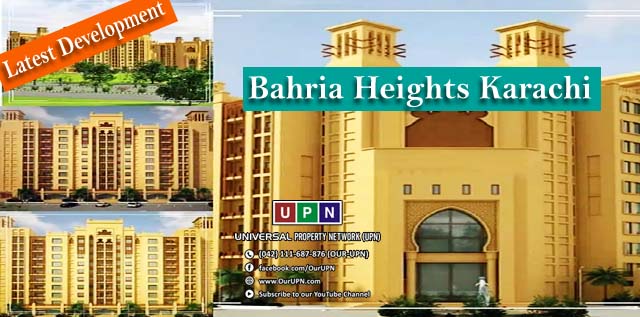 Bahria Heights is an appealing apartment project located ideally in Bahria Town Karachi. It is a 2 bedroom apartment project that measures 1100 sq. ft of land.  The development work of this project is moving at a satisfactory pace and now near to completion. It is a luxurious project of Bahria Town where you will enjoy high standards of living.
Not just for living, but Bahria Heights is an ideal property option for a safe and secure investment.
Grey structure for almost all the towers is ready and finishing work is also under process. For further details, please keep on reading this blog!
Development Details of Bahria Heights
This amazing project Bahria Heights was launched 4 years ago. Bahria Administration has started the development of this project a short time later. According to recent details, almost 90% of the work is completed. Finishing work including paint, grills, and tiles is already in process. By analyzing the current development status of Bahria Heights, it is confirmed that it will soon become ready to live the area.
Location Details of Bahria Heights
Bahria Heights is a beautifully located project of Bahria Town Karachi. It lies in the proximity of Precinct 10 A Villas. Bahria Heights is located just on the right side of Main Jinnah Avenue. One of the major attractions of Bahria Heights is the Precinct 12 Ali Block. Basically, Bahria Heights is located in Precinct 17. Some nearby attraction of these apartments is Precinct 8, Midway Commercial, & Bahria Hills.
Bahria Heights – Latest Prices
These 2 Bed Apartments have launched 4 years ago at the booking price of 50 lacs. That time, all these apartments were offered with easy installments. But now, all the installments complete and you can only buy them on full cash payment.
The starting price of 2 Bed Apartment in Bahria Heights is 55 lacs and goes high to 70 lacs. Bahria Heights facing Main Jinnah Avenue is relatively expensive than the apartments available in the inner circle.
In the past, these 2 Bedroom Apartments were sold in the price bracket of 75 lacs. But as the property rates are down these days, so now you can buy them at the lowest prices.
Why Invest in Bahria Heights?
The prices of these 2 Bedroom Apartments are reasonable. All these apartments are ideally located and offering huge investment potential. By keeping the current development status of Bahria Heights, we assure you that Bahria Town will soon announce possession for it.  Once the development work completes, and possession available, people will move to their apartments.
The prices of apartments in Bahria Heights will definitely increase. So, we suggest you buy in these 2 Bedroom apartments of Bahria Town Karachi. Not only apartments but you can also consider buying the commercial shops designed on the ground floor of each tower of Bahria Heights.
Those looking to start their own business especially, want to open mart, pharmacy, or any other store in Bahria Town Karachi, can confidently consider buying the limited numbers of shops available in Bahria Heights.
Stay connected to Universal Property Network for further details!