Bahria Farm Houses Bahria Town Karachi- Updates 2020
by UPN
September 17, 2020
0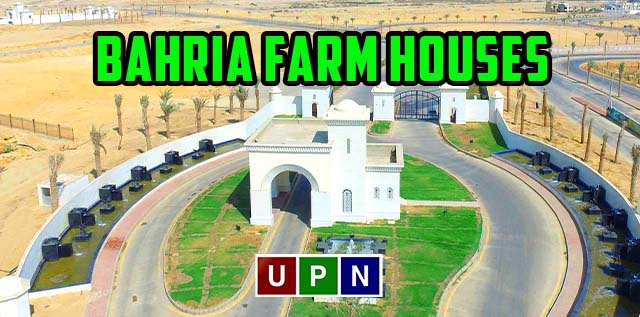 Bahria Farm Houses is one of the iconic projects located ideally at the attractive location of Bahria Town Karachi. These are the most attractive farmhouses offering comfortable and exclusive living opportunities to everyone. Lies close to Bahria Town's main gate, Precinct 3 Bahria Farm Houses, are exceptional and unique enough to catch everyone's attention and investment. Those desires to live in a peaceful environment in the surroundings full of greenery and freshness can confidently choose these Bahria Farm Houses for sale. Let us explore the attention-catching details of these farmhouses (plots) located in Bahria Town Karachi!
Farm Houses for Sale in Bahria Town Karachi
As a whole, Bahria Town Karachi is a peaceful and attractive gated community to invest in various commercial and residential properties. However, you will find a great charm of an advanced living and secure community in Bahria Farm Houses. These farmhouses plots are located in Precinct 3, a properly developed and ideally located precinct of Bahria Town Karachi.
It offers three different sizes of plots for the beautiful developing of farmhouses, such as:
1 Acre (4000 sq yards)
1.5 Acre (6000 sq yards)
2 Acre  (8000 sq yards)
The starting price of a 1-acre farmhouse in Precinct 3 Bahria Town Karachi is 6 crores to 8.50 crores.
1.5-acre farmhouse plot will cost you around 12 crores to 16 crores.
Also, farmhouse plots of 2 acres are available at 15 crores to 19 crores.
Development Status of Bahria Farm Houses
These farmhouses plots for sale in Bahria Town Karachi are 100% on-ground and available with possession. Around 7 to 8 farmhouses are completely built or near to completion. So, those desires to start the quick construction of their farmhouse by buying these larger size plots in Precinct 3 can easily begin without waiting for anything else.
Nearby Attractions and Facilities
Precinct 3 Bahria Farm Houses are located near already developed and populated Bahria Apartments Precinct 19. Also, International standard Theme Park and Bahria Carnival are located close to it. Most importantly, Imtiaz Super Market is situated at the walking distance. Moreover, all the food chains like KFC, OPTP, McDonald's, and many others are located close.
Reasons to Invest
Bahria Farm Houses Karachi is one of the best choices to invest in Bahria Town Karachi. Beautifully located, these are the ideal farmhouses for sale ever. The farmhouses plots' prices are still reasonable, and the attractive development status makes them more valuable. Additionally, these are the best farmhouses to construct and get benefit from the construction relief package. Also, the beautiful surroundings and top-class amenities give them the perfection of a peaceful, joyful, and comfortable living place.
So, what are you looking for? Contact Universal Property Network for further assistance!
Check out our site for more detail. Latest News