What Makes Bahria Town Karachi different from the Other Housing Societies?
by UPN
September 19, 2020
0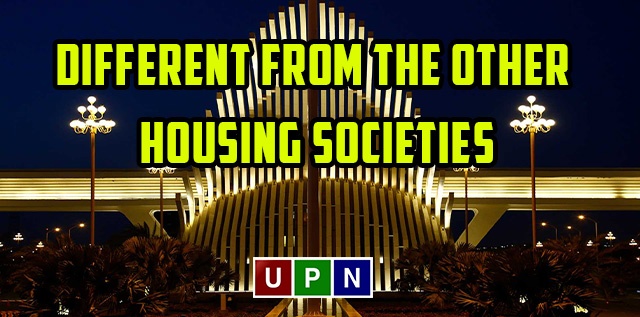 Bahria Town Karachi is one of the leading mega housing society which presents class, style, and luxury. Designed and developed on the most advanced development ideas, Bahria Town Karachi is a place where you will have desirable living opportunities. Since its launch, the society has become the center of attention for investors and buyers. The smart town planning, use of the latest technology and modern developments make it stand prominent among other housing societies. However, if you are still wondering about the attractions and features of Bahria Town Karachi, which makes it different from others, let's read out the details together!
Sprawling Over A Large Area of Land
Bahria Town Karachi is the most significant housing society in Pakistan, as well as in Asia.  It is covering a total land of 45493 acres, which is approximately 178 km square. Being the largest housing society, Bahria Town Karachi offers all the best attractions and facilities that impossible to have in any other project.
Ideal Location
Bahria Town shares a very ideal and tactical location in Karachi, which increases its market value and attraction. It is situated on the Hyderabad -Karachi Super Highway, also known as the M9 motorway. Developed far away from the hustle and bustle of the main city, Bahria Town Karachi is located at around 9 KM from the toll plaza.
High-Standard and Unmatched Facilities
Do you want to be facilitated in every walk of life while living in Karachi? Then choose Bahria Town Karachi. It is a place where you will have the leisure of all the high-standard and unmatched facilities and features.
First of all, this society has an advanced automated gated system and security cameras and guards. The professional monitoring team and advanced technology keep the Bahria Town's residents safe from all the threats and dangers. It is also essential to mention the patrolling force of Bahria Town, which plays a vital part in society's security.
Load shedding is one of the main issues in Karachi. However, there are no such issues in Bahria Town Karachi at all. This place assures the uninterrupted supply of electricity 24/7. So, it does not matter what the season or time is? You will enjoy every moment of your life with the continuous supply of electricity.
Also, a large society is designed, developed, and reserved for parks and green spaces. So, despite being a modernized housing project, Bahria Town Karachi is a green, healthy, and peaceful place.
Entertainment, Educational and Healthcare Facilities
Not only ending here, but Bahria Town Karachi offers countless opportunities to cherish every moment of your life with so many entertainment facilities. There are numerous shopping malls to have a memorable shopping experience. Moreover, the international standard Theme Park can be your best choice to have a joyful Sunday with your kids. Different superb spots like Cine gold Cinema, Golf Club, Sports Complexes, Rafi Cricket Stadium, Bahria Carnival, and Danzoo are waiting to serve you with the best entertainment happiness in Bahria Town.
While describing the importance and features of Bahria Town Karachi, how could we forget the provision of world-class education and health care facilities? Some of the best schools, like Root Millennium and Bahria School, is already operational there. Soon, the campus of Iqra University is opening.
Also, International Standard hospital and several clinics are operational to serve with the best healthcare facilities.
Numerous Properties and Countless Opportunities
It would be nothing wrong to say that Bahria Town Karachi is a one-stop solution to Pakistan's property needs. All the properties are so amazingly designed, which perfectly caters to the needs of all investors. Bahria Town offers residential and commercial plots in various sizes and at different locations. It features the highly-attractive constructed properties such as apartments and villas. Most importantly, the recent addition of Bahria Greens that is a low-cost plots project, offers the best investment opportunities ever.
So, due to such world-class facilities, ideal location, and numerous properties, we can conclude that there is no comparison of Bahria Town Karachi with any of Pakistan's housing projects.
For further assistance, feel free to contact Universal Property Network!
Check out our site for more detail. Latest News