Bahria Heights Karachi – Latest Details
by UPN
May 22, 2020
0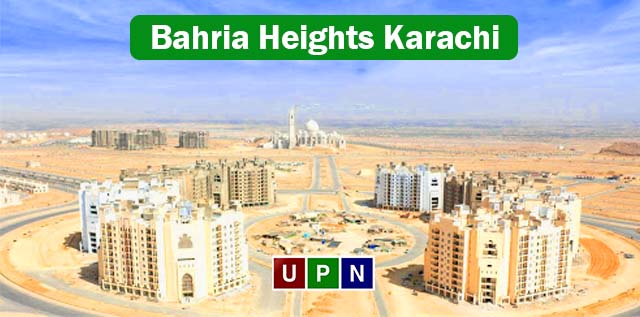 Bahria Heights Karachi is a two-bedroom apartment project covering a land of 1100 sq. It is ideally located at the hot-location of Bahria Town Karachi. This appealing project is designed in a neighbourhood concept with each block consisting of 4 identical buildings. The development of Bahria Heights is near completion, and soon it will be a populated place. It is among the top, attractive ready to move properties that are affordable and offering unique as well as desired facilities.
Buying apartments in Bahria Heights is not only suggested for living purposes, but it is also a safe and secure investment option.
Development Updates 2020
Bahria Heights launched four years ago. And its development work was also started just after its launch. Now the latest updates confirm that 90% of the development work is complete. The finishing work of the buildings and apartments is moving at a satisfactory pace. The remaining work will complete in the next six months.
Impressive Location of Bahria Heights Karachi
Bahria Heights Karachi is located in the Precinct 17 of Bahria Town Karachi. It is an ideally located property of this mega housing community. These apartments are located in the proximity of 10A Villas. It also lies on the right side of Main Jinnah Avenue.  Bahria Heights also enjoys the close location to Precinct 12 Ali Block. Some of the other popular locations are Midway Commercials and Bahria Hills.
Current Market Prices of Bahria Heights
These 2 Bed Apartments of Bahria Heights were launched at the prices of 50 lacs. Now the latest prices of these apartments are 55 lacs to 70 lacs. All of these apartments are available on full cash payments. Apartments facing Main Jinnah Avenue will cost you more in comparison to the flats at the back.
What Are the Attractions of Bahria Heights?
These apartments are designed smartly and offering huge investment potential. All of these apartments will be soon available with possession. The prices are reasonable, and the location of Bahria Heights is also heart-winning. Moreover, all the latest facilities are available in the surroundings. Not only the apartments but limited numbers of shops are also available in the four buildings of Bahria Heights.
Investors looking to start their store, pharmacy, or any mart can also invest in these shops available for sale. Overall, Bahria Heights is a top-class choice for both end-users as well as investors.
Check out our site for more detail. Latest News