Bahria Town Has Announced the Last Date for Property Adjustments
by UPN
October 13, 2020
0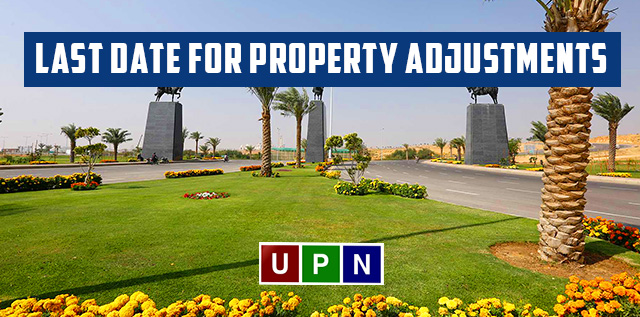 Bahria Town Pvt Limited has recently rolled out a notification announcing the deadline of adjustment of amount from one project to another. It is mentioned in the notice that no adjustment will be given after the given date. Earlier, we had shared the details/solutions for Old BTK, Bahria Sports City and Bahria Paradise plot files. The discussed details were about the best properties where you could adjust the paid amount of one file to another. Bahria Town Karachi also provides several best options, however, now the deadline for amount adjustment is announced!
Last Date to Adjust your Amount from One Project to Another
According to the notice, adjustment of the amount of one project to another will be allowed up to 15th October 2020.
This amount adjustment policy is mainly for the disputed and non-developed properties of Old BTK, Bahria Paradise and Bahria Sports City.
Disputed/ Non-Developed Properties of Old BTK
Precinct 23 A and Precinct 26 as well as Precinct 29 A, B, C and D
Precinct 32 A, B, C, D and Precinct 33 A, B, C, and D
Valley Blocks (A, B, C, and D)
Disputed/Non-Developed Properties of Bahria Sports City
Precinct 40 (half non-developed area)
Precinct 41 to Precinct 45 (entire precincts)
Disputed/Non-Developed Properties of Bahria Sports City
Precinct 46 (No more a part of Bahria Town)
Precinct 48 is Developed Partially
Partial Area of Precinct 51 and Precinct 54
Partial Area of Precinct 56
Precinct 52, Precinct 53, Precinct 55 and Precinct 58 (Not Existing Physically)
Please Note:
This amount adjustment deadline has nothing to do with the adjustment offers provided by the private builders in Bahria Town Karachi. Adjusting your properties in private projects such as in shops/offices/apartments will be really beneficial for you.
Following are some of the best projects where you can confidently adjust the amount of your non-developed/disputed properties of Bahria Town Karachi:
Theme Park Tower
Jinnah Trade Centre
Empire Business Centre
Abu- Al –Qasim Commercial Plaza
Business Trade Centre
Al-Falah Tower
Diamond Homes
GM Icon or GM Towers
Dominion Twin Tower
Dominion Centre and Much More
For any queries and assistance, do contact Universal Property Network!
Check out our site for more detail. Latest News