Jinnah Avenue Commercials Bahria Town Karachi – New Deal
by UPN
October 15, 2020
0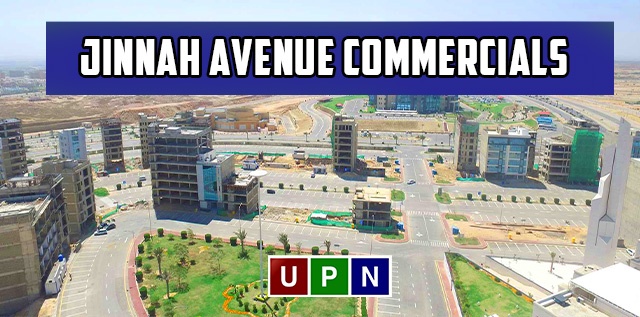 Jinnah Avenue Commercials is one of the most prestigious commercial projects in Bahria Town Karachi. A new deal of plots is also launching soon in it. Known to be the commercial hub of Bahria Town Karachi, Jinnah Avenue Commercials features 500 sq yards plots. All these commercials are located alongside the 18 lanes, 400 ft wide Jinnah Avenue, inspired by Sheikh Zayed Road Dubai. The entire project is planned to facilitate over 10 lac Bahria Town Karachi's residents.
Jinnah Avenue Commercial is a mega commercials project; however, Bahria Town has only developed its 1st Phase. These commercials start from the Main Entrance of Bahria Town Karachi and end at International Standard Theme Park Karachi.
Let's discuss the latest plot prices, development, and the new deal launching soon!
Plots for Sale in Jinnah Avenue Commercials
Jinnah Avenue Commercials offers 500 sq yards plots for sale. The dimension of these plots is 80 x 60 square feet. These plots are fully-developed and available at the price range of 15 crores to 30 crores. The prices of the plots depend on their location, i.e., less will be the distance from Bahria Town gate more will be the prices.
Undoubtedly, the price of the plots seems high, but the ideal location, easy access, and the increased demand impressively justify these prices.
Construction Permission on Jinnah Avenue Commercials Plots
Bahria Town allows the construction of ground + 20 floors on these 500 sq yards Jinnah Avenue Commercials. However, the construction of the floors totally depends on the results after soil testing. But it would be good to mention here that the minimum floors that are allowed after soil testing are mostly 12 or more than it.
New Deal Launching Soon in Jinnah Avenue Commercials
A new deal of plots/ apartments is launching soon in Jinnah Avenue Commercials Bahria Town Karachi. In this new deal, Bahria Town will allow the construction of apartments on these Jinnah Avenue Commercial plots.  Such new plots are located in the front of Bahria Towers starting from tower 26 to tower 1.
It means you can construct a multi-purpose project on 500 sq yards plots. For example, there will be commercial on ground, first and second floors while the remaining storeys will have the apartments of different sizes.
So, it's an excellent opportunity for those who were planning to start a multi-purpose project in Bahria Town Karachi. Now they can invest in the best plots for sale in Jinnah Avenue Commercials and can earn huge profits in returns.
Moreover, different corporate offices, high-rise buildings, bakeries, snooker clubs and other projects are operational, which will impact positively on the projects lies close to it.
For further details, please stay connected with Universal Property Network!
Check out our site for more detail. Latest News