Bahria Town Karachi – Current Market Situation
by UPN
March 19, 2020
0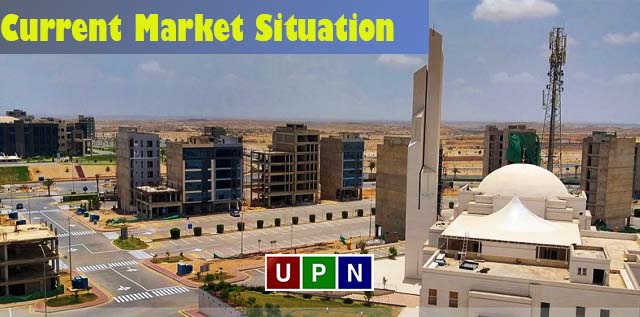 After making exhaustive discussions and also a series of meetings, Bahria Town Karachi and Jamaat-e-Islami have recently signed an agreement on March 09, 2020. This agreement signed between both the parties addresses virtually all the concerns of the affectees of Bahria Town Karachi. Many issues of society are already resolved while others will be soon resolved.
Actually, the impact of this agreement is very positive. The market condition of Bahria Town Karachi is improving day by day. In the past two months, there were only sellers in the market. But now the conditions are changing. This time, you will find both the buyers and sellers in the society.
Increase in the Demand of Plots
The demand for plots is now increasing is Bahria Town Karachi. Buyers are showing their huge interest in their desired properties. The prices of the property are also improved. For example, there is an increase of 15% in the prices of 250 sq. yards plots in Precinct 1. Similarly, the prices of plots in other precincts are also increasing with time. Prices are increasing but still, these are quite affordable to make the investment. That's why the number of buyers and investors in society is rapidly increasing.
If you are interested to buy any property for sale in Bahria Town Karachi, don't miss the opportunity.
The Demand for Villas and Apartments is Especially Increasing
Not just the plots, but the demand for villas and apartments for sale in Bahria Town Karachi is also increased. Both investors and end-users are investing their money to buy the ideally located apartments and the best –designed villas for sale.
The rates of property in Bahria Town Karachi are slowly but gradually increasing. Those looking to buy ready to move properties at the best prices in Bahria Town can confidently make the investment now.
Want to Sell Your Property – Please Wait
As described earlier, the market conditions of Bahria Town Karachi are improving. Both buyers and investors are ready to invest their money in the best properties of Bahria Town.  If there will be an increase in the demand for property, the prices will also increase. So, if you are planning to sell out your property in Bahria Town Karachi, please wait!
We highly recommend you hold your property for at least the next two months to earn a handsome return on your investment. The prices of all the properties in Bahria Town Karachi will soon go high. So, if you have some holding power and you desire to earn the best returns, please wait and stay updated with the market prices.
For more details, contact Universal Property Network!
Check out our site for more detail. Latest News