Bahria Town Karachi to Host Grand Fireworks and Celebrations of Pakistan Day, 23rd March at Eiffel Tower
by UPN
March 22, 2019
0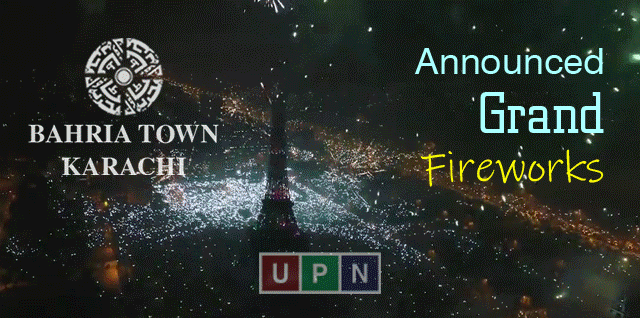 Bahria Town Private Limited always has a special way of celebrating different festivals, occasions and especially, the national days. Now keeping with longstanding tradition, Bahria Town is going to host grand celebrations of Pakistan Day at Eiffel Tower Bahria Town Karachi tomorrow (Saturday) at 8 pm. The celebrations will feature an epic firework, music, food and amazing games to celebrate the 79th Pakistan Day.
Bahria Town Karachi has completed its preparations to add more colors to the celebrations of Pakistan Day. Different programs and activities have been arranged with the connection of 23rd March 2019 at its different major attractions and public spaces. This event will add joy to your celebrations with a mesmerizing musical show, singing competition, games, magic shows and much more. Delicious and mouth-watering food from leading local and international food outlets will also add joy to your national event.
It would be a great chance for residents of Bahria Town and the general public to celebrate Pakistan Day in a unique and attractive manner.
Grand Firework At Eiffel Tower Bahria Town Karachi
The sky lanterns and amazing display of fireworks on 23rd March Night will light up the sky with colors and spectators will have an awestruck view all around them. These amazing celebrations of Pakistan Day will be truly memorable, so don't forget to come here for the outstanding experience.
Thousands of people will witness an amazing display of fireworks at Eiffel Tower. Bahria Town Eiffel Tower is basically a replica but its structure is very much similar to the original Eiffel Tower Paris. At this grand event, Eiffel Tower will be a center of attention, so it will be beautifully decorated with colorful lights and fireworks to make its view even more amazing.
No Entry Fee & Open for General Public
This beautifully organized celebrations of Pakistan Day by Bahria Town Karachi s waiting for you so just note down the time and come along with your families as this event is all set for the families only. Bringing to you good news is that there will be no entry fees will be charged to the visitors. Adding more, these Pakistan Day Celebration & Event is open for the residents of Bahria Town as well as for the General Public just to boost up your joy and maximum participation.
The celebrations at Bahria Town have always been a success, attractive crowds of visitors.
Stay connected to Universal Property Network.