Bahria Town Karachi – Once Again A Top Option For Investment- Latest Prices of All Plots
by UPN
April 9, 2019
0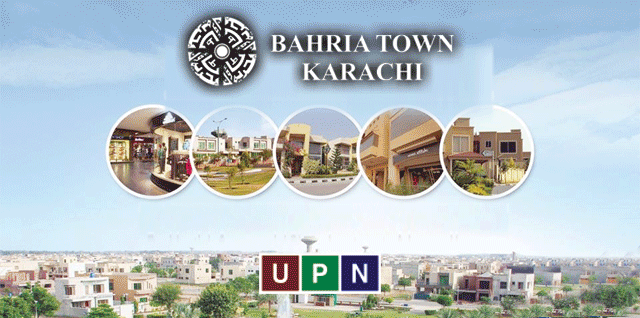 Today, Universal Property Network is going to share with you very good news that the demand for plots including all the categories is again increased in Bahria Town Karachi. This largest housing project of the country is back in demand after the settlement of land issues on 21st March by the Supreme Court of Pakistan. The prices of property in Bahria Town Karachi are increasing day by day and that is why more and more investors are looking and investing in it. As it has been only 12 to 14 days of settlement but many interested customers have already bought their desired properties in Bahria Town Karachi.
With the increasing rates of plots, it is clear that the buying trend will more accelerate in the coming days. And people who were looking to sell their properties are now waiting as the prices with surge upwards.
Bahria Town Karachi – Master Community With Multiple Opportunities
Since its inception till to date, Bahria Town Karachi is a unique and outstanding option for residency and secure investment. It is a place of dreams. It is designed with all the world-class amenities and attractive features that make this master community unique and attractive from other housing projects of the country. The fabulous project is offering the residential plots, commercial plots, luxury villas, different sizes of apartments and also built-in homes. It is a place where you will find multiple options for comfortable and peaceful residence and profitable investment. Here we are going to share with you the latest prices of residential plots and the commercial plots available in Bahria Town Karachi.
Latest Prices of 125 Sq. Yards Residential Plots
Precinct 10:   Rs. 28 – 40 Lacs Full Paid
Precinct 11:   Rs. 28 – 40.00 Lacs Full Paid
Precinct 12 (Ali Block):   Rs. 38.00 – 60.00 Lacs Full Paid
Precinct 14:   Rs 39.00 – 52.00 Lacs Full Paid
Precinct 15: Rs. 37.00 – 48.00 Lacs Full Paid
Precinct 15A: Rs.  28.00 – 36.00 Lacs Full Paid
Precinct 15B: Rs.  26.00 – 32.00 Lacs Full Paid
Precinct 23: Rs. 20.00 – 26.00 Lacs Full Paid
Precinct 24: PKR 20.00 – 26.00 Lacs Full Paid
Precinct 25: Rs. 21.00 – 28.00 Lacs Full Paid
Precinct 25A: Rs. 19.00 – 25.00 Lacs Full Paid
Precinct 26: Rs. 21.00 – 28.00 Lacs Full Paid
Precinct 26A: Rs.  22.00 – 30.00 Lacs Full Paid
Precinct 27: Rs. 23.00 – 33.00 Lacs Full Paid
Precinct 28: Rs. 24.00 – 33.00 Lacs Full Paid
Precinct 29A: Rs. 15.00 – 17.00 Lacs Full Paid
Precinct 29B: Rs. 14.50 – 17.00 Lacs Full Paid
Precinct 29C: Rs. 14.50 – 17.00 Lacs Full Paid
Precinct 29D: Rs. 14.50 – 17.00 Lacs Full Paid
Precinct 31: Rs.  20.00 – 26.00 Lacs Full Paid
Precinct 32A: Rs.  14.00 – 16.00 Lacs Full Paid
Precinct 32B: Rs. 14.00 – 16.00 Lacs Full Paid
Precinct 32C: Rs. 14.00 – 16.00 Lacs Full Paid
Precinct 32D: Rs. 14.00 – 16.00 Lacs Full Paid
Precinct 33A: Rs. 14.00 – 16.00 Lacs Full Paid
Precinct 33B: Rs. 14.00 – 16.00 Lacs Full Paid
Precinct 33C: Rs. 14.00 – 16.00 Lacs Full Paid
Precinct 33D: Rs. 14.00 – 16.00 Lacs Full Paid
Residential Plots of 250 Sq. Yards
Precinct 1: Rs. 90.00 – 150.00 Lacs Full Paid
Precinct 6: Rs. 71.00 – 85.00 Lacs Full Paid
Precinct 8: Rs. 71.00 – 85.00 Lacs Full Paid
Precinct 12: Rs. 45.00 – 55.00 Lacs Full Paid
Precinct 16: Rs. 61.00 – 75.00 Lacs Full Paid
Precinct 21: Rs. 30.00 – 36.00 Lacs Full Paid
Precinct 22: Rs. 33.00 – 39.00 Lacs Full Paid
Precinct 30: Rs. 35.00 – 50.00 Lacs Full Paid
Precinct 32: Rs. 27.00 – 40.00 Lacs Full Paid
Residential Plots of 500 Square Yards:
Precinct 4: Rs. 110.00 – 150.00 Lacs Full Paid
Precinct 15B: Rs. 65.00 – 80.00 Lacs Full Paid
Precinct 17: Rs. 95.00 – 130.00 Lacs Full Paid
Precinct 27A: Rs. 80.00 – 100.00 Lacs Full Paid
Precinct 29: Rs. 60.00 – 80.00 Lacs Full Paid
Precinct 33: Rs. 42.00 – 55.00 Lacs Full Paid
Bahria Hills: Rs. 130.00 – 160.00 Lacs Total Full Paid
Residential Plots of 1000 Square Yards:
Precinct 7: Rs.150.00 – 200.00 Lacs Full Paid
Precinct 17: Rs. 240.00 – 290.00 Lacs Full Paid
Precinct 18: Rs. 240.00 – 290.00 Lacs Full Paid
Precinct 33:  Rs. 70.00 – 75.00 Lacs Full Paid
Residential Plots of 2000 Square Yards:
Precinct 3: PKR 480 – 550 Lacs
To sell or buy any category of plots in Bahria Town Karachi, Contact Universal Property Network