Bahria Town Karachi – Important Reminder for Balloting and Surcharges
by UPN
May 5, 2018
0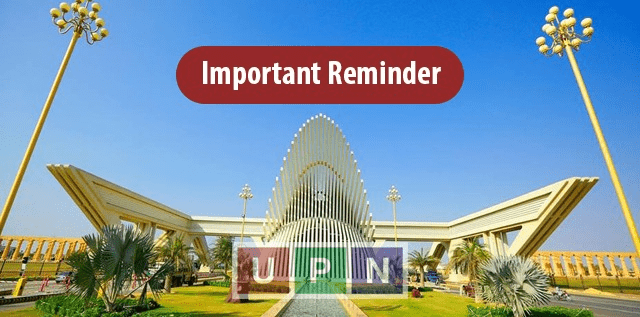 The first half of May 2018 is going to be really exciting for Bahria Town Karachi members for a couple of reasons. First, the balloting of un-balloted properties is scheduled to be held on 10th May, 2018. Second is Bahira Town Surcharge Policy 2018 which is offering 100% surcharge waive off on active files. Both are really good news for customers which will benefit them in future but they must remember the basics to avail their chances. The customers/members should be very careful about eligibility criteria and pre-requisites for balloting. Similarly in case of surcharge waive off, last date must be on all member's mind. Following is a soft reminder for Bahria Town Karachi members in each case.
For Balloting – Pay Your Dues by 7th May
For all those who have not paid their installments of active plots, Bahria Homes and Bahria Apartments (un-balloted) should deposit it by 7th May. Otherwise they won't be part of 10th May balloting. In the meanwhile, these members can get advantage of 100% surcharge waive off policy. Bahria Town has categorically explained that this balloting will only include un-balloted files of those who will clear all their dues by 7th May, 2018. Therefore deposit your payable dues till the mentioned due date in selected Bank Branches or via pay order/demand draft. Still, three days are left to pay your dues if you haven't done it yet.

Last Date of Surcharge Waive off is 15th May
In all the excitement about balloting and surcharge waive off policy, one must not forget the last date to avail it. 15th May is the last date till you can get 100% surcharge waive off. All active members of Old BTK (residential, commercial, Bahria Homes and Bahria Apartments) must pay their payable amount (installments) by 15th May to avail 100% off on surcharges.
All Bahria Town Karachi members are reminded on these deadlines for their own advantage. Any negligence may cost you so get the payments done in time.
For more information and latest updates, please keep visiting Universal Property Network (UPN).