Bahria Town Peshawar – Complete Location Details
by UPN
December 17, 2019
0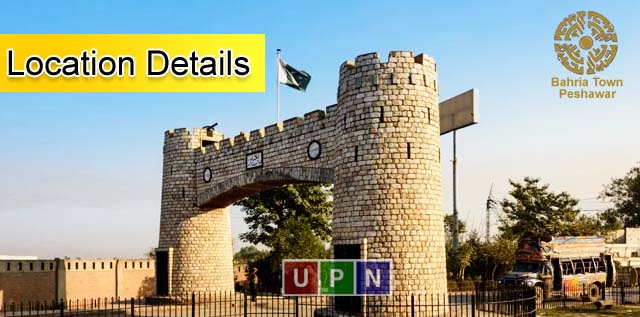 The most-awaited housing project Bahria Town Peshawar is soon going to be launch in the next couple of months. The project is fabulously designed and planned to develop as according to the high quality work of Bahria Town Private Limited. Bahria Town Peshawar is one of the major developments of 2020. This society is planned to be developed like the luxurious societies of Qatar, Dubai, and Kuwait.
Comprising large area of land, this Peshawar's Bahria Town is ideally located between the hub of all business activities. No doubt, there are many reasons that make this project prominent, but above all, its location is attractive.
It is a project with an ideal location and has many associated benefits. So, here today, we will discuss the complete location details of Bahria Town Peshawar!
Attractive Location of Bahria Town Peshawar
The developers of society have already chosen the most beneficial location for the development of this project. Just like other housing societies of Bahria Town, this new, modern society in Peshawar is best in terms of its location and easy access. Bahria Town Peshawar is featuring all the top-class qualities associated with the trademark of Bahria Town. But at the same time, its prime location adds more value to make an investment.
Exact Location of this Mega Project
Bahria Town Peshawar is going to develop on Charsadda Road. The developers have already acquired a large area of land for its development on Chardsadda Road near Northern Bypass and M2-Expressway.
Actually, this location of Bahria Town is quite easily accessible from the different parts of the city. Moreover, the area is already popular for all commercial and business activities.
Prominent Features of Bahria Town Peshawar's Location
The location of the society has strong road networking and linkage to the other parts of Peshawar.
Peshawar's Bahria Town is developing in the central hub of the city
Moreover, its location has direct links with the primary and other important highways of KPK.
Charsada Road, the proposed location of Bahria Town Peshawar is already popular for different business activities. Moreover, the future of that area is very bright in terms of peaceful residence and profitable investment.
Different modern projects are developing the surroundings of Bahria Town Peshawar.
Indeed, all basic life facilities are available there.
Beneficial Location & Huge Potential
Investing in the housing societies of Bahria Town Private Limited is always a profitable choice. But as this is a newly developing society where you can avail a chance to invest in installments so, definitely this project has huge potential. Moreover, the most promising location of Bahria Town is also adding value to the available properties in it.

Stay tuned for further details and information. We Universal Property Network will keep you informed with all the latest happenings of Bahria Town Peshawar!