Budget –Friendly Plots of 500 Sq. Yards in Precinct 33 – Latest Updates
by UPN
May 26, 2019
0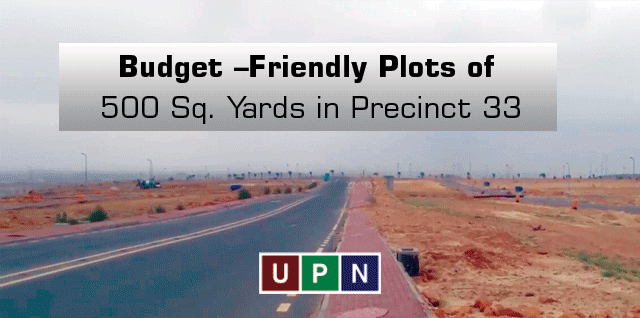 Before buying any residential plot in any society the basic desire of every one of us is to get the plot at the reasonable prices. But if anyone gets a chance to buy the desirable plot in Bahria Town Karachi at the budget-friendly rates, it's definitely one of the big opportunities that everyone must avail.
Today, UPN is going to share with you the latest details and updates of 500 sq. yards residential plots in Bahria Town Karachi that are available in Precinct 33. No doubt, Bahria Town Karachi is offering multiple options at different prices, but if you are really interested in buying the best residential plots of 500 sq. yards, Precinct 33 is highly recommended. It would be right to say, that the plots of Precinct 33 are really attractive and providing the best opportunity for the reasonable rates and current development status.
Location Overview
Precinct 33 is located on the prime location of this largest housing project. Its ideal location is the basic reason that the popularity and demand for plots in this precinct is rapidly increasing. Precinct 33 is situated close to Bahria Sports City and opposite to Rafi Cricket Stadium. 350 sq. yards of luxury villas of Bahria Sports City are located in front of this precinct.
Attractive Attractions
There are so many attractions that make this precinct the top choice for residency and investment returns. Located close to Rafi Cricket Stadium, and many other attractions including, Dancing Fountain and a well-known Five Star Hotel are located close to Precinct 33.
Development Status Of Precinct 33
Precinct 33 is highly recommended to investors for its current development status. All the development work on road infrastructure, electricity, green belts, and sewerage is already completed so far. And now heavy machinery is working on the site for plot developments. By keeping the current development speed in mind, we can confidently say that Bahria administration will soon announce the possession of 500 sq. yards available in it.
Latest Prices & Details
Precinct 33 is among the top attractive precincts of Bahria Town Karachi that offers the ideal residential plots of 500 sq. yards at the budget-friendly rates. The starting price of 500 sq. yards plot in Precinct 33 is from 45 lacs to 60 lacs. There is a difference in the prices of plots as depending on the location. Plots of general category as well as corner and park facing both are available in it. The payment plan of the plots is already completed and now you can book your plot at full cash payment.
Investment Analysis
If you are interested in buying any property in Bahria Town Karachi, do consider the investment in Precinct 33. This precinct is attractive for its ideal location, for so many attractions in the surrounding, fastest development speed and also the budget-friendly rates. The prices of the plots are reasonable and it is expected that the possession will be handover this year. So make a profitable investment in Precinct 33 before all the plots sold out.
For any further details and information, contact UPN realtors or keep in touch with Universal Property Network.