DHA Bahawalpur Development Latest – Access Road Ceremony
by UPN
January 21, 2018
0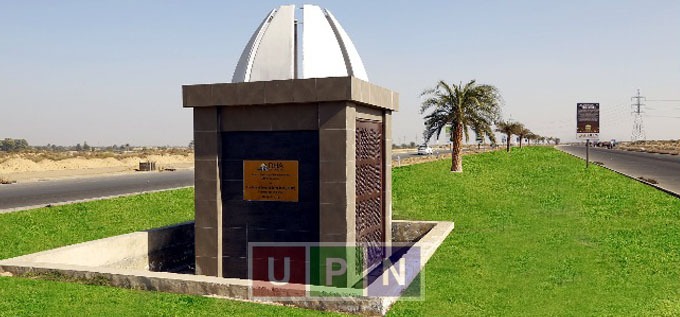 DHA Bahawalpur Development will get a new boost as development work has commenced on its Main Gate and Main access road. A launch ceremony was organized on the site of DHA Bahawalpur in this regard. Heavy Machinery has started clearing the area for the construction of the road that will lead the traffic from Main Bahawalpur Road into DHA Bahawalpur.
DHA Bahawalpur Development – Access Road Ceremony
               A ceremony was held to start the construction process for Main Gate. Project Manager DHA Bahawalpur Brigadier Shahid Mahmood along with Mr. Farrukh Aslam, consultant DHA Bahawalpur, attended the ceremony. During the ceremony, Project Director briefed the attendees about the fast track development of DHA Bahawalpur and vowed to make it livable by December 2018. He also declared that the access road leading into DHA Bahawalpur and Main Gate of DHA Bahawalpur will be completed in next 6 months.
DHA Bahawalpur Development Status
               Different land development companies have been given the tender to complete development in various sectors of DHA Bahawalpur. This step was taken to ensure timely delivery of possession to plot file holders of DHA Bahawalpur. DHA Bahawalpur Villas are being completed at rapid speed and grey structure of several villas are now visible on site. A Model villa will be available for visits at DHA Bahawalpur in next coming months.
Main Boulevard of DHA Bahawalpur is being finished as majority portion is covered by asphalt and only small portions are left in sand form. Landscaping on Main Boulevard is also visible creating an oasis like atmosphere in Bahawalpur desert. Construction work is also underway for water tanks (both overhead and underground) in DHA Bahawalpur. Such is the wide scope of DHA Bahawalpur Development that recently Administrator of DHA Quetta visited the site and appreciated the development speed at DHA Bahawalpur.
DHA Bahawalpur Installments Update
Recently DHA Bahawalpur Administration announced that now the current plot file owners can sell their plot files without having to pay their outstanding installments. The new owner of plot files can pay those installments who buy these plot files from current owners. This has created a great vibe among the DHA Bahawalpur plot file holders who can sell their files without having to pay their remaining dues.
If you are looking to buy DHA Bahawalpur plot files at a reasonable price, then contact Universal Property Network (UPN). We will help you earn sizeable returns once development is completed by December 2018.