DHA City Karachi – Dow University Hospital (DUHS) is Operational Now
by UPN
February 21, 2018
0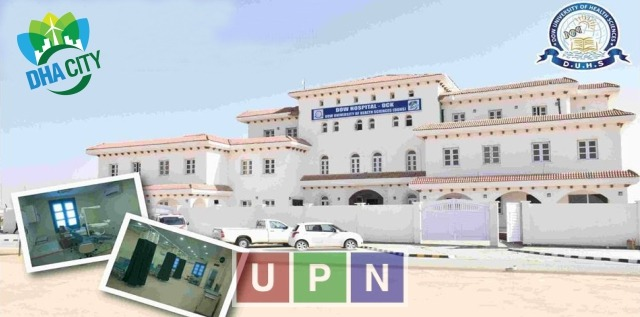 The Sector 3 of DHA City Karachi (DCK) is in the limelight for fast track development and inhabitation. The possession was announced for this particular sector in last year for construction and since then a number of families have moved in to this space. Recently, auction of sector 3 commercial plots was held and now for residents' facilitation another promise has been fulfilled of a well equipped medical hospital. Dow University Hospital in association with Dow University of Health Sciences, DUHS is now operational in DHA City Karachi, Sector 3.
Inauguration of Dow University Hospital in DCK
Finally the MoU signed between Dow University (DUHS) and DHA City of building a hospital has come on ground. The foundation of medical tourism in the DCK has been laid through this latest equipped medical centre.  Administrator DHA Karachi, Brigadier Shahid Hassan Ali inaugurated this hospital where and appreciated the support of Dow University of Health Sciences for this achievement.
Junior School is Functional
DHA City Junior School is serving with quality education by highly trained professional faculty with contemporary state-of-the-art facilities. Being run under experienced staff, DHA Junior School is working under supervision of DHA Education Directorate. The promotion of education through DHA centers is the highest priority of management and they are fulfilling this commitment in sector 3.
DHA City Karachi Sector 3 – Marvel of Urban Living
The rapidly developing DHA City Karachi is a marvel of urban living especially sector 3 has emerged as a dream place to live in. Buildings here are inspired from Spanish architecture whereas all standard life necessities are available within this zone. Other educational and healthcare facilities, it features a grand Masjid, parks, jogging tracks, community centre, mini mart for shopping and lot more for its residents.
All these major developments in sector 3 are going to have a positive impact on entire DHA City Karachi. Ultimately plots prices would not only go up in this sector but also in nearby sectors. In the upcoming days DHA City Karachi will be benefitted of these developments.
For more updates and latest information, please keep visiting Universal Property Network (UPN).