Master City Gujranwala Recent Developments and Balloting – Latest Update
by UPN
May 17, 2018
0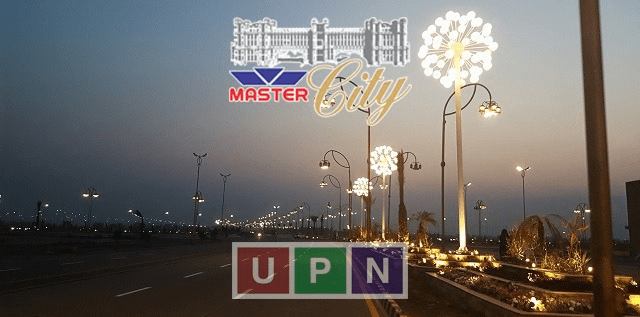 Master City Housing Scheme Gujranwala, a project of Master Group of Industries, is an unmatched community to live a dream living. Approved by Gujranwala Development Authority, this gated housing society is spanned over 2383 kanals amidst lush green environment to redefine your lifestyle. With almost every imaginable facility and necessities of modern life, it offers more than something for everyone. When it comes to leisure activities, Master City is an ultimate destination for relaxation with fun together.
Master City Gujranwala Location
It is ideally located at Sialkot Bypass Road، Gujranwala opposite Peoples Colony near canal. Set in a peaceful environment near canal, it gives an easy approach to the main city centers through the road it connected with.
Master City Gujranwala Developments
In the past few days, Master City Gujranwala has headed towards a series of major developments in the arena.
Gas Pipelines Installation:
Good news for all residents that after underground electrification, Sui Gas has been approved in Master City Gujranwala. The working on gas pipeline installation has been started and soon all this facility will be available to all residents.
Roots Flagship Campus Launching
To provide quality education, Master City and Roots International School System have joined hand for launching Roots Flagship Campus. The groundbreaking ceremony of this state-of-the-art campus took place yesterday which will offer qualifications from Montessori to A-Levels.
A huge laser fountain in the food court is being installed under supervision of Chinese engineers. It will be unique source of entertainment for all residents and visitors which they have never seen before. It will be opened for public on Eid-ul-Fitr.
Indoor Ladies Gym Opening Soon
Fitness and wellness should be prime concerns for everyone that's why gym and fitness clubs are integral part of housing societies. After Open (Outdoor) Gym, Master City Gujranwala has announced to open an Indoor Gym for ladies in C Block.
Master City Gujranwala Balloting of Overseas Block
Master City Gujranwala balloting of overseas block files is still to be held and now management has given a final date. Balloting for overseas block will be done on 14th August 2018 and files up to 31st December 2017 will be considered for this process.
Master City Gujranwala Map
Master City Gujranwala updated map includes all block A, B, C, D and also features overseas block in it. It shows the layout plan of this project on virtual space.
Master City Gujranwala Plots
Master City Gujranwala is divided in to eight blocks including overseas blocks and features residential plots in five different cuttings.
A Block (5 Marla, 7 Marla, 10 Marla , 1 Kanal, 2 Kanal)
B Block (5 Marla, 7 Marla, 10 Marla , 1 Kanal)
B1 Block (5 Marla, 7 Marla, 10 Marla , 1 Kanal)
C Block (5 Marla, 7 Marla, 10 Marla , 1 Kanal)
C1 Block (5 Marla, 7 Marla, 10 Marla
D Block (5 Marla, 7 Marla, 10 Marla , 1 Kanal, 2 Kanal)
D1 Block (5 Marla, 7 Marla, 10 Marla , 1 Kanal)
Overseas Block (Only 5 Marala Plots till now)
Master City Gujranwala Plots Prices
To have a fair idea about Master City Gujranwala plots prices, you will have to visit their official website where are pricing details are mentioned.
For more information and latest updates, please keep visiting Universal Property Network (UPN).