Precinct 26A Bahria Town Karachi – Development Gets Underway on Site
by UPN
June 29, 2018
2 Comments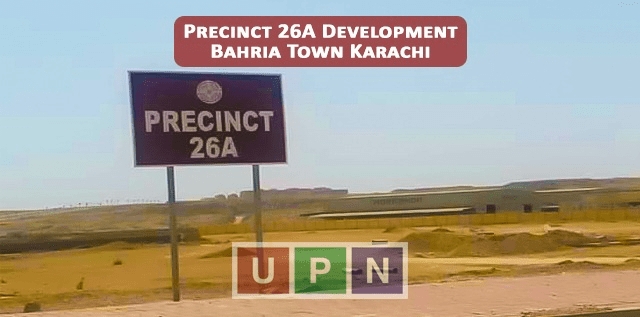 The development work in Bahria Town Karachi is continued at large still there are some precincts where it is overdue since long. Precinct 26A is one of those few precincts where development had not started earlier. Comprising of 125 sq. yards plots only which is buyers' favorite market in Bahria Town Karachi, development of Precinct 26A was needed as soon as possible. The wait is over now and the project administration has finally paid attention to this precinct. Precinct 26A development has been kicked off and now activities are underway on site.
Precinct 26A Development Bahria Town Karachi
Although the activities have just started off and on initial stage, yet it is great news for future and existing buyers. Heavy machinery has arrived on site and on the roll now which is encouraging for investors as well.
As we have mentioned that development work just got underway so road development is continued in this precinct. In the starting days, some three to four roads inside Precinct 26A have been developed now. By time, it will pick up pace and soon the entire precinct will be come into shape.
The Impact of Supreme Court's Approval
Earlier there was perception among people of a disputed village alongside this precinct but it has been cleared now. There is nothing as perceived by people and the start of development has proved it wrong. Supreme Court's latest directive about development in Bahria Town Karachi is indeed great for this project and now development will continue uninterrupted till completion. The buyers can buyer plots here without any concern and development will be advantageous for them in longer run.
Property Rates to Increase
With the start of development work, we hope property prices will definitely go up in this precinct in future. The existing buyers who want to sell their plots must hold them for a few months to get a better price. Buying at the moment will be a wise decision as we expect that rates will increase in upcoming days.
For more information and latest updates, please keep visiting Universal Property Network (UPN).