Precinct 8 – Best Time to Buy 250 Sq. Yards Plots in It -Latest Updates from Bahria Town Karachi
by UPN
February 7, 2019
0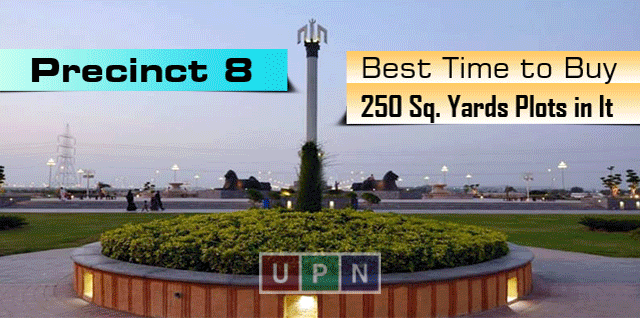 Bahria Town Karachi is the master plan that is beautifully designed and developed in the heart of Pakistan. It is the one and only the largest housing community located in Karachi that is a complete city within the city. It's a fabulous project of Malik Riaz where a man can enjoy all the luxuries and top-amenities that he can just imagine in its residence.  It is comprised of many precincts but some precincts that are located close to its main entrance hold significant value for easy approach an ideal location. Among these favorite precincts, Precinct 8 is a top option for 250 sq. yards residential plots. Here the latest updates and details for you.
Location Overview
Precinct 8 is ideally located at the prime location of this largest housing community. It is positioned at the difference of 5 to 6 km from the main entrance. Locate opposite to Midway Commercials; it holds a unique position for its ideal location. Grand Jamia Mosque is also located at the left side however; Bahria Heights is situated at the right side to this precinct 8.
Development & Possession Updates
Precinct 8 is a beautiful precinct of Bahria Town Karachi that is now completely developed and all the work of development is completed so far. Carpeted roads, underground electricity, green beds, high-class security and uninterrupted gas, electricity and water supply are already provided to this precinct.
All the residential plots available in it are fully developed and available with possession. These are the value-added points to buy your plot in Bahria Town Karachi and start the construction of dream residence as soon as possible.
Updated Plots Prices & Details
Precinct 8 is all comprised of 250 sq. yards plots available in it. These plots are available with possession but still, the prices of the plots are quite reasonable to invest. The market value of these residential plots of 250 sq. yards is 55 lacs to 75 lacs. But as the prices of the plots are decreased due to certain conditions of the real estate market so these are available to you at the price bracket of 50 lacs to 60 lacs. Both general and category plots are available in Precinct 8.
Ideal Time to Buy 250 Sq. Yards Plots
This precinct is now considered one of the top precincts of Bahria Town Karachi where buyers and investors always search for best deals and plots. The basic reason is the ideal location, availability of possession, and reasonable prices. But now these days, the prices of the plots are once again decreased and there is a change in the prices of the plots around 5 lacs to 8 lacs. So it's is the best time to buy these 250 sq. yards residential plots before the prices increase and back to their original value. Buying is highly recommended.
For further details & updates about any precinct of Bahria Town Karachi, Keep visiting Universal Property Network.