Precincts 4 – Fully Developed & Possession Plots of 500 sq. Yards –Latest Updates
by UPN
February 6, 2019
0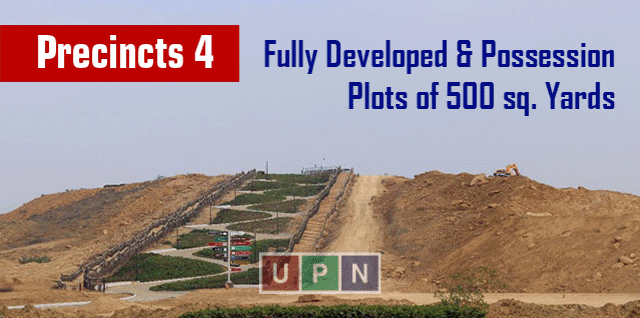 Bahria Town Karachi is now moving to a speedy completion. Most of the houses are already constructed and the number of peoples is moving to their dream destination to enjoy the privileged lifestyle. Bahria Town Karachi is getting the attention of investors and buyers due to its modern design and infrastructural brilliance. The development in Bahria Town is going on a steady pace in all the precincts and projects. Today, we have the latest update of its Precincts 4. There is a big opportunity to buy 500sq. yards plots at the reasonable cost.
Precincts 4 Location Overview
Precincts 4 is one of the most proffered choices for 500 sq. yards plots because of its ideal and amazing location. It is located near the Main gate of Bahria Town Karachi which will be proved an added value in future. Bahria Town head office, Bahria Hills and Bahria Heights, as well as the Grand Mosque, is also located close to it. Midway Commercials and Cinepex Cinema are also positioned near to Precinct 4.
Precincts 4 Development Completed
As the possessions are already handover and the development of this precincts is already completed. Road infrastructure, poles installation, street lights and all the work related to is completed. The plot of 500 sq. yards on the ground and buying is highly recommended.
Precincts 4 Possession Updates
Bahria Town Karachi is developing at a very fast speed.  The possession of Precincts 4 is available. This is the only precinct with 500 sq. yards plots, in which the possession is announced. So it's a big attraction for the investors as well as on residence point of view. You will need to buy a plot today and start constructing your dream home at the ideal location of the city.
Latest Prices of 500 Sq. Yards Plots
The price for these 500 sq. yards plots in Precincts 4 starting from 1 crore to 1.5 crores depending on the location. The prices of the plots are reasonable and best to make investment in them. If we make a comparison between the prices of Precincts- 1 plots of 250 sq. yards with the Precincts-4, 500 sq. yards plots it is almost equal. So there is a big advantage for buyers to buy a plot of 500 sq. yard in Precincts 4 where they can get more land for construction as compared to the plots of 250 sq. yards plots of Precincts 1.
 Best Opportunity for Investors
At this time, these 500 sq. yards plots in Precincts 4 Bahria Town Karachi are the ideal opportunity for the investors to buy these plots at comparatively budget-friendly prices. The ideal location of these plots seems best to construct your house and avail all the high-class, luxurious facilities provided by Bahria Town Karachi.
On the other hand, if you are looking to buy these plots for short-term investments, it is highly recommended.
For further details, and updates about these plots of 500 Sq. yards in Precincts 4 you can contact Universal Property Network.  We are always here to assist you.