Residential Plots of 2000 Sq. Yards For Sale in Precinct 3 – BahriaTown Karachi
by UPN
January 26, 2020
0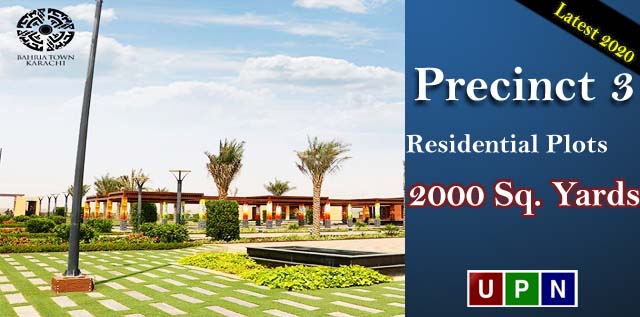 Bahria Town Karachi is one of the best housing societies to live peacefully in the city of lights. It is a fabulously designed and developed community that is further comprising 3 Sub-Projects and many precincts in it. All these precincts of Bahria Town are offering numerous residential and commercial properties.But those looking to buy bigger sizes of residential plots of 2000 Sq. Yards can confidently consider its Precinct 3.
Yes, this is the most attractive Precinct of Bahria Town Karachi, featuring the residential plots of 2000 sq. yards. These plots are fully –developed and available with possession. Moreover, Precinct 3 is the only precinct near the main entrance of Bahria Town with 2000 sq. yards plots for sale.
So, let's discuss some updated details of this precinct that will help you to make a wise investment decision!
Location of Precinct 3, Approach, & Attractions
Precinct 3 is ideally located precinct near to the Main Entrance of Bahria Town Karachi. This precinct is located at a distance of only 500 Meters from the Main Entrance. It is located at the Main Jinnah Avenue, situated on the left side.
Moreover, Begum Akhtar Rukhsana Hospital is also located opposite to Precinct 3. Indeed, Theme Park also lies in the close proximity of this precinct. So overall, Precinct 3 is enjoying the ideal location and easy approach in Bahria Town Karachi.
Updated Prices Plots of 2000 sq. yards
All the residential plots of 2000 sq. yards are fully developed and available with possession. Precinct 3 is the very first precinct in Bahria Town Karachi with a bigger size of plots. These plots were launched at the price of 1 crore 85 lacs on the flexible payment plan of 4 years. However, now you can buy them on full cash payment only.
The current market price of these plots is ranging between 3.5 crores to 5 crores. The prices of the plots are different as per the location.
Investment Potential
Precinct 3 is one of the very beautifully developed precincts of Bahria Town. First, it is featuring all the basic and top-notch facilities that make it the best choice to become a resident of it. Moreover, you can buy these 2000 sq. yards to construct a highly attractive farmhouse.
You can use it for your own needs or can earn a handsome rental income with it. In simple words, these 2000 sq. yards plots are ideally designed to cater to need of every investor.
For more details, contact Universal Property Network