Shops in Bahria Heights Karachi – Good Option to Start Your Business
by UPN
September 26, 2020
0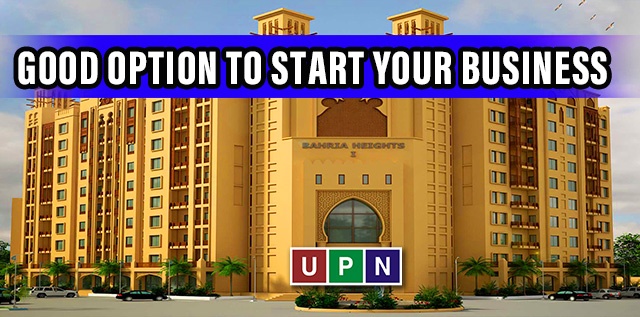 Bahria Heights Precinct 17 is one of the popular choices to buy two-bed apartments at reasonable rates in Bahria Town Karachi. However, it is impossible to ignore this project when buying the best shops for business purposes. Launched a few years ago, Bahria Heights is a high-rise buildings project offering luxurious and affordable apartments for sale. A 2-bed apartment covering a land of 1100 sq ft. is designed brilliantly to meet the housing need of a small to medium size family.
Bahria Heights comprises eight towers, among which four buildings are ready, and possession will be available in the next six months. On the other hand, four towers of Bahria Heights are in grey structure while the development work progresses at a good pace.
Shops for Sale in Bahria Heights
The shops for sale in Bahria Heights are located on the ground floor of all the towers. Bahria Heights offers shops in two different sizes, such as 300 sq ft and 350 sq ft.
The launching price of a 300 sq ft shop for sale in Bahria Height was 65 lacs. 350 sq ft shop was launched at the total price of 85 lacs. The shops' installment plan is not completed yet, so it's an excellent opportunity for those who cannot pay the entire payment at once.
Current Prices of Shops in Bahria Heights
As mentioned earlier that the shops for sale in Bahria Heights were offered on installments before the development begins. Almost all the shops are on-ground, even the shops in the four ready towers will soon be available with possession. So, a buyer will have to pay the own price of 10 lacs to 30 lacs depending on the shop's location and size.
Reasons to Buy Bahria Heights Shops
Bahria Heights is a first-class apartment project soon going to be an inhabited place. Buying shop for sale in Bahria Heights is highly profitable to start your own successful business and earn handsome rent. You can buy these shops to open a grocery store, a pharmacy, a laundry shop, or any business of your choice.
Moreover, once these shops are available, you can rent out it for a regular income. Also, potential investors can invest in them to resale it later. Overall, buying in the shops of 300 sq ft and 350 sq ft of Bahria Heights is profitable in many ways.
Attractions/ Nearby Locations of Bahria Heights
Bahria Heights is ideally located close to Precinct 10A and 11A Villas. Precinct 12, Grand Jamia Mosque, Precinct 19 Apartments, and Precinct 6 lie close to them.
Contact Universal Property Network for further details!
Check out our site for more detail. Latest News