Bahria Dancing Fountain Karachi – A Spectacular Sight for Weekend Fun
by UPN
March 17, 2018
0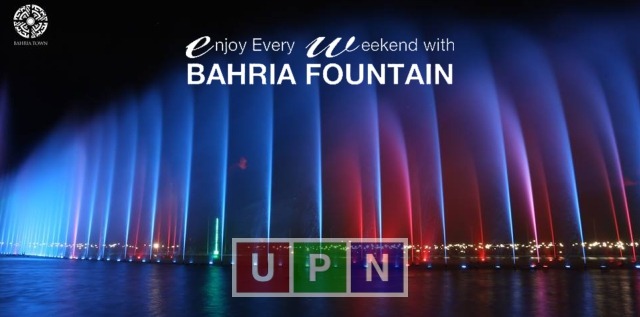 In Bahria Town Karachi, apart from all high-end living facilities, its community features and major landmarks are top-notch attractions. Be it Grand Jamia Mosque, Rafi Stadium or Bahria Adventura (Theme Park Karachi all are unique and absolutely amazing by their own. Bahria Town has mastered the art of creating such masterpieces for its residents and among all these Bahria Dancing Fountain is truly a treat to watch. Located inside Bahria Adventura between Precinct 27 and Precinct 28, it is a spectacular sight to visit and enjoy on weekends.
Bahria Dancing Fountain Karachi – South Asia's Largest Dancing Fountain
The fascinating Bahria Dancing Fountain is the largest dancing water fountain of South Asia. Over 180 fountain jets with height above 150 feet dance along well synchronized 350 colorful LED laser lights and fire flames to give scintillating experience to visitors. Background music keeps your senses moving with excitement provided by this mesmerizing display of water and lights.
This wonderful attraction has been created by internationally accredited designers who were the minds behind Singapore's Santoza Fountain, Shanghai's Disney Land Park, France's Futuro Scope, Dubai Fountain and Dubai Canal.
A Delightful Show of Dancing Water
This amazingly colorful spectacle keeps you hooked and awestruck with its delightful show of water dancing on the tunes. It has been a great addition among the tourist attraction of developing Bahria Town Karachi. Watching this dazzling sight is simply unforgettable and these dancing lights and water swing your mode with great cheers.
FREE Weekend Fun for Families
There can't be a better outing plan than visiting Bahria Dancing Fountain Karachi on weekend. For families entry is FREE and they can entertain themselves on every Sunday from 7:00 PM to 10:00 PM.
Enjoy the Best Food at Bahria Carnival
It will be a complete entertainment package to go there as with this incredible water show you can enjoy best food at Bahria Carnival. You can satisfy your taste buds by different flavors of east and west at Bahria Carnival Food Festival with nice ambiance.
Want to have a perfect ending of your weekend; Bahria Dancing Fountain Karachi is the best option to hangout.
For more updates and latest information, please keep visiting Universal Property Network (UPN).