Bahria Heights – Luxury Apartments for Luxurious & Comfortable Lifestyle
by UPN
February 14, 2019
0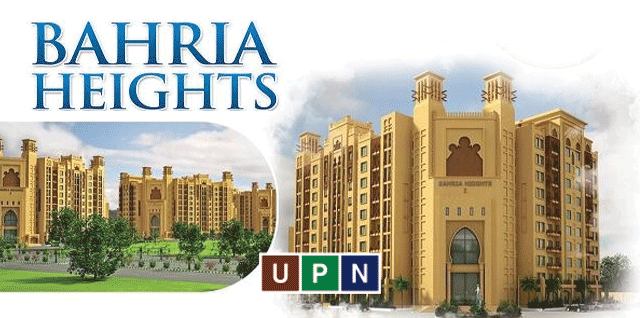 Bahria Heights is an amazing project of 2 bedroom apartments' measures 1100 sq. ft of land.  Bahria Town Private Limited holds an excellent reputation for its high standards of living, perfect quality and definitely they deliver what they promise. Though, the real estate market is not yet stable, but still Bahria Town Karachi is providing you the best investment opportunities in it.
Bahria Heights is an outstanding opportunity to enjoy a luxurious and comfortable lifestyle in Bahria Town Karachi. Located on the ideal location and surrounded by so many attractions, these 2 Bedroom apartments are simply providing you a great chance to become a part of this grand housing project at the reasonable rates.
Development Details
Bahria Administration has launched Bahria Heights about 4 Years ago and the development started a short time later. Now the development of these apartments is almost 90% completed. Grey structures are visible on the site. Decoration work on the model house is also completed and it is clear that it will soon open for the general public. Bahria Town always delivers what it promises, so it is clear that Bahria Height will soon become a ready-to –live area.
Location Overview
Bahria Heights is ideally located at the prime location of Bahria Town Karachi. These 2 Bedroom apartments are located just at the right side of Main Jinnah Avenue. In the left, there is the nearest attraction of Ali Block that is one of the most popular blocks of this largest housing community. Precinct 8, Midway Commercial, & Bahria Hills are beautifully located in the surroundings of Bahria Heights.
Latest Prices of Bahria Heights
These 2 Bed Apartments of Bahria Heights were launched at the booking price of 50 lacs with the easy installment plan of 4 years. Now all the installments are completed and you can buy these apartments at full cash payment. But still, there is big news for you that the prices of these apartments are quite reasonable. 2 Bed Apartment Bahria Heights will be available to you at the price bracket of 50 lacs to 60 lacs. Bahria Heights facing Main Jinnah Avenue are relatively expensive than the apartments available in the inner circle.
In the last few months, the same apartments were sold at the price between 70 lacs. But due to instability and current situation of the real estate market, these luxury apartments are available to you at the most economical prices.
Investment Potential
Buying in Bahria Heights is highly recommended for so many reasons. It would be nothing wrong to say that Bahria Heights will soon become ready to live property. It is expected that the development work will be complete in the next few months. The model flat is complete and as soon as it will be open for the general public, the demand for the apartments will increase and it will definitely boost up the prices.
So don't miss the chance and contact our expert realtors to get best consultancy services of Universal Property Network.