Eid-ul-Azha Holidays Announced in Bahria Town Karachi – Important Notice
by UPN
August 17, 2018
0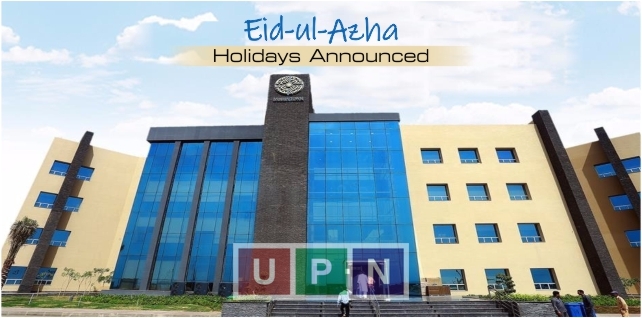 Now when just four days left in Eid-ul-Azha, everyone is gearing up to finalize preparations for this big day. Commemorating the biggest sacrifice in the way of ALLAH, Muslims across the country will celebrate this day with full zest. Bahria Town Karachi is a mega residential community where special arrangements for sacrificial animals have been done. Where all this excitement is mounting up, everyone is also discussing about Eid-ul-Azha holidays. Bahria Town Karachi announced Eid-ul-Azha holidays for their staff and they are happy to know on getting double holidays than what federal government has announced.
Bahria Town Karachi Eid-ul-Azha Holidays
Bahria Town Karachi has publically announced Bakra Eid holidays in a notice issued by its head office. The notice has been issued by Head of Operations Bahria Town Karachi which informs about the closure of office from 20th August to 27th August, 2018. Bahria Town Karachi staff members will have a complete week off on account of Eid-ul-Adha Holidays. The management wants to avoid any inconvenience to the customers so all concerned have been informed a few days before holidays.
Sales Desk to Get Open from 24th August for Installments
All operations and services will be unavailable till 23rd August for general buyers, investors and authorized property dealers. However customers can submit their installments from 24th August via pay order and demand draft at Sales Desk from 10 AM to 5 PM at Bahria Town Karachi Offices (Icon and Site). From 28th August the Bahria Town Karachi offices and all its departments will re-open as per schedule and previous routine. Bahria Town Karachi wants to assure best services for customers and allowing installment submission to facilitate them.
Important Advice for Bahria Town Karachi Customers
To avoid rush in last days before Eid and right after opening of offices, customers are advised to wrap up their tasks related to BTK Head Office as early as possible. It would be better if your pending tasks get completed before Eid otherwise don't get late in submitting installments if they are due or overdue
Universal Property Network (UPN) wishes you a very Happy Eid-ul-Azha and prays that Almighty ALLAH accept your Qurbani at this Eid-e-Qurban.
For more updates and latest information, please keep visiting Universal Property Network (UPN).