DHA Gujranwala Latest Plot Files Prices and Development Update 2018
by UPN
April 3, 2018
2 Comments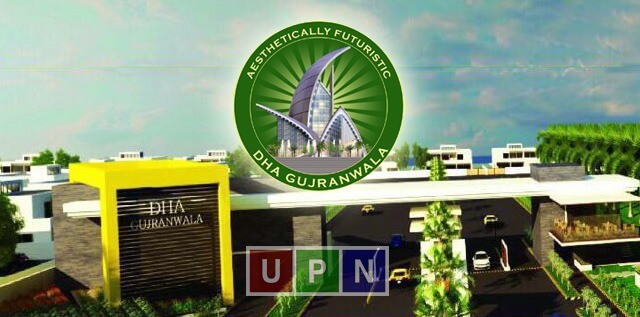 DHA Gujranwala is right now the latest project from DHA administration. After a roaring success in cities like Lahore, Karachi, Islamabad and Peshawar, DHA Gujranwala was launched with much more fanfare. Currently, plot files of DHA Gujranwala are available as development is yet to begin in the housing project. DHA Gujranwala plot files are perfect for investment as well because an economical plot file bought at this moment can yield sizeable ROI, once development reaches its final stages in DHA Gujranwala.
DHA Gujranwala Launch
DHA Gujranwala was initially launched by offering 10 Marla and 1 Kanal plots. In December 2017, an official event was held to commemorate the official launch of DHA Gujranwala that was attended by Project Director of the project and other leading officials of DHA. On that every day, offices of DHA Gujranwala were also relocated to their present location near DHA Gujranwala site on main G.T. Road.
DHA Gujranwala Plot Files
5 Marla, 10 Marla and 1 Kanal plot files are available for sale in DHA Gujranwala. Plot files of DHA Gujranwala are available at very reasonable own price right now. Buying plot files for residential plots in DHA Gujranwala can help you earn sizeable profits in coming months. As the development will near completion, demand of residential plots will increase in DHA Gujranwala. You will be able to sell the plot files to adamant buyers for a reasonable profit.
DHA Gujranwala Location
For a long time, there was no information available for the future site of DHA Gujranwala. Only a few days before launching 5 Marla plots deal, DHA Gujranwala conducted a ground breaking ceremony at the site of DHA Gujranwala. It is located near G.T. Road with easy access provided by Chenab Gate Road. DHA Gujranwala's proximity to Gujranwala Cantonment area was already being predicted in real estate market.
Location Map here
DHA Gujranwala New Deal
As mentioned earlier, at first DHA Gujranwala launched 10 Marla and 1 Kanal plot files for sale in the market. Now in December 2017, 5 Marla plots were launched based on a special quota system. Huge response was shown by general populace and even from overseas Pakistanis to book 5 Marla plots in DHA Gujranwala.
DHA Gujranwala Payment Plan
5 Marla plots in DHA Gujranwala were launched along with a 2 year payment plan. Regardless of the quota in which an applicant won a plot, 5 Marla plot price in DHA Gujranwala remains the same. Quarterly installments are needed to be paid for DHA Gujranwala 5 Marla plots
| | | | |
| --- | --- | --- | --- |
| Plot Size | Down Payment | Quarterly Installment | Total Price |
| 5 Marla | Rs. 300,000 | Rs. 242,860 | Rs. 2,000,000 |
DHA Gujranwala Booking Quota
DHA Gujranwala  launched booking for 5 Marla plots in DHA Gujranwala along with a quota system. This system was announced by DHA Gujranwala administration to accommodate various sections of society. This was also intended to attract overseas Pakistanis as separate quota was set for them in DHA Gujranwala 5 Marla plots. Here is the break down of quota of DHA Gujranwala 5 Marla plots
General Public – 80%
Overseas Pakistanis – 10%
Serving/Retired Defense Persons & Govt./Semi Govt. employees – 7%
Senior Citizens Above the age of 65 – 3%
DHA Gujranwala Balloting
Balloting for 5 Marla plots of DHA Gujranwala will be held on April 4, 2018. Ever since the deadline for booking form submission expired for 5 Marla plots, people were anxious to know about the balloting date. DHA Gujranwala Balloting, at this moment, will determine that who among the booking form applicants will be eligible to own a plot in DHA Gujranwala. Plots will be allotted only to those successful applicants of DHA Gujranwala that will pay their down payments within 15 days of balloting process
DHA Gujranwala Development
DHA Gujranwala development will commence soon after the balloting process. Expression of Interest has been invited from land development and construction firms to short-list a professional company to carry out development on the land of DHA Gujranwala.
DHA Gujranwala Plot Files Own
Right now own price is only known for 10 Marla and 1 Kanal plot files of DHA Gujranwala. Once balloting is done for DHA Gujranwala 5 Marla plots, own prices for this category of plot files will become visible as well. It must be known that different plots file rates are applicable for affidavit files and allocation files.
10 Marla affidavit – Rs. 3,125,000
10 Marla Allocation – Rs. 3,025,000
1 Kanal Affidavit – Rs. 4,725,000
1 Kanal Allocation – Rs. 4,500,000
DHA Gujranwala Possession
Possession for DHA Gujranwala plots is expected by year 2020 as that is the time by which payment plan for 5 Marla plots will be finalized.